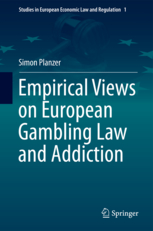 Highly respected Springer International Publishing is releasing these days a monograph on European Gambling Law. The book "Empirical Views on European Gambling Law and Addiction" provides a comprehensive analysis of and a novel view on gaming law in the EU/EEA.
Dr Simon Planzer, a lecturer in law and gaming lawyer specialising in European and Swiss gaming law authored the book. His work offers a new perspective on gaming at the intersection of law and science.
The book first of all provides an overview of the available statutory law and an exhaustive critical analysis of the voluminous case law of the Court of Justice of the EU and the EFTA Court. In addition, the book offers an empirical perspective by verifying whether key findings in the case law are actually supported by empirical evidence on addiction. The causes and consequences of the Court of Justice's special approach to gaming services are then explained.
The author further argues that a moral perspective on gaming services impedes professional and evidence-based gaming policies. Finally, he examines whether the precautionary principle and EU fundamental rights play a relevant role in gaming law.
Planzer's book illustrates the direct relevance of science and empirical research for gaming lawyers, judges and policy makers alike.
With a foreword by Harvard University Professor Howard J. Shaffer, PhD
Read the freely available book section "Gambling Addiction: A Case for Public Morality or Science?" here
http://www.planzer-law.ch/en/academia/free-downloads/
For free chapter previews and to order this book, click here http://www.springer.com/law/international/book/978-3-319-02305-2?detailsPage=chapter